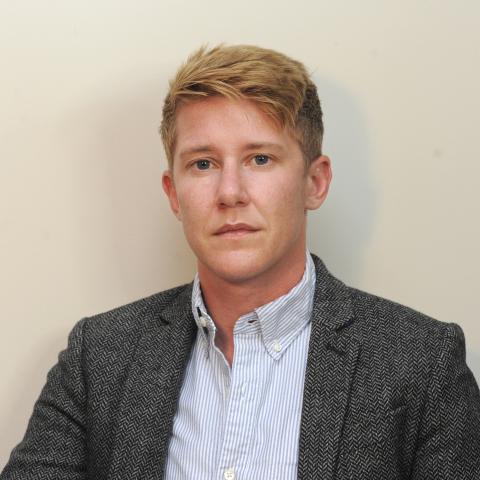 Assistant Professor, Kinder Institute and Department of History
408B Jesse Hall
573-882-3330
Research Area
Early America, Indigenous History, Early Modern Empires
Education
Ph.D., Yale University
M.A. and M.Phil., Yale University
A.B., Duke University
Bio
I'm an assistant professor in the Department of History and the Kinder Institute on Constitutional Democracy. I received my PhD from Yale University, after which I was a Junior Visiting Fellow at the Center for Humanities & Information at Penn State.

I teach courses on early North American, Atlantic, and Indigenous history. My research is similarly aligned, revolving around the intersections of eighteenth-century European and Indigenous peoples and empires, with general interests in state formation, historical geography, and knowledge production.
I'm currently completing my first book manuscript, War for the Interior: The Imperial Struggle for North America & the Infrastructural Routes of Revolution, which maps the long Seven Years' War for the American Interior and reconstructs the inter-imperial roots of the American Revolution. Support for this research came from a Chateaubriand Fellowship from the Embassy of France, as well as funding from the Omohundro Institute of Early American History & Culture, the McNeil Center for Early American Studies, the Huntington Library, the American Philosophical Society, the William L. Clements Library, and the Library Company of Philadelphia, among others. 
I've published work on Kanien'kéha (Mohawk) translation in early American material texts and on the global 18th-century British Empire. Forthcoming work includes a chapter on "Empires" in the Cambridge History of the American Revolution, a chapter on "Media & Communications" in the Oxford Handbook of the Seven Years' War, and a co-edited volume with Rob Fletcher, entitled Inlands: Imperial Formations, Contested Interiors, and the Connection of the World. 

My next book project turns towards "path diplomacy" and the spatial politics of Indigenous and Euro-American transportation landscapes, from the colonial period through the rise of the early American state. ​My other on-going project, which centers on William Johnson and the Brant family, uncovers a cultural and political campaign to create a genteel Mohawk elite in pre-revolutionary New York. 
Courses Taught
HIST 1100: "US History to 1865"
HIST 2100/2100H: "Revolutionary Transformation of America"
HIST 4070/7070: "Indians and Europeans in Early America"
HIST 8004: "Age of Atlantic Revolutions"
HIST 8460: "Trans-Atlantic History"
HIST 8480: "Historiography"