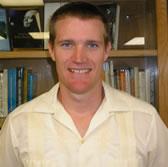 Associate Professor and Chair, Department of History
W104 Locust Street
573-882-9467
Research Area
Latin American
Bio
Robert Smale's interest in history began during his visits to his father's high school classroom in the small town of Boulder City, Nevada. Leland "Skip" Smale shouldered the eclectic teaching load often associated with high school coaches: history, drivers' education, and health; Robert's father did coach baseball, basketball, and tennis. While his father's collection of driving simulators, ball machines, and sporting equipment held a certain distracting appeal, the models of medieval siege machinery and history books stored in the classroom most captured Robert's imagination. Assistant Professor Robert Smale would eventually pursue his fascination with history through the college level with a B.A. from the University of Nevada, Las Vegas and an M.A. and a Ph.D. from the University of Texas at Austin.
Robert eventually combined his passion for history with an interest in the Spanish language sparked by several exceptional high school language instructors. Today Assistant Professor Smale specializes in the history of Latin America. He has spent over two and a half years living and studying in the land-locked Andean republic of Bolivia. He has also traveled widely in Mexico, Peru, Argentina, and Chile. His research focuses on the political, economic, and cultural struggles of South America's popular classes: the rural peasantry and the urban working class. He is currently drafting a book on peasant and worker political mobilization in early twentieth-century Bolivia. That country experienced one of Latin America's more substantial social revolutions of the modern era. In 1952, the country's labor unions defeated the conservative military in three days of street battles and imposed a significant socialist reform. Robert's research examines the roots of this militancy during the earliest years of industrialization in Bolivia.
Assistant Professor Smale is enjoying living in Columbia, Missouri surrounded by his family. He lives with his wife Daveiva Murillo and their two young children Skip and Scott. His mother and grandmother have relocated from Las Vegas, Nevada and now live in Columbia as well.