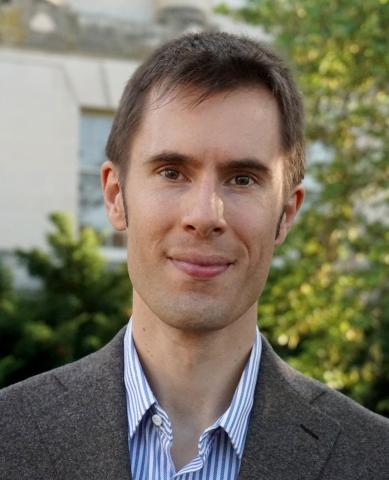 Associate Professor and Director of Graduate Studies
615 Locust St. Bldg., Rm E117
573-882-2481
Research Area
Energy, the environment, the United States and the Middle East
Education
Ph.D., Yale University
M.A. and M.Phil., Yale University
B.A., Stanford University
Bio
Victor McFarland is an associate professor in the MU Department of History. His research interests center on energy, the environment, and U.S. relations with the Middle East. His first book, Oil Powers: A History of the U.S.-Saudi Alliance, was published by Columbia University Press in 2020.
Originally from North Idaho, Dr. McFarland received his B.A. from Stanford University and his M.A., M.Phil., and Ph.D. degrees from Yale University. Before coming to the University of Missouri, he was a Miller Center fellow at the University of Virginia in 2012-13 and a Dickey Center fellow at Dartmouth College in 2013-14. In 2018-19 he served as a Warren Center faculty fellow at Harvard University.
Recent Publications
Books:
Oil Powers: A History of the U.S.-Saudi Alliance (Columbia University Press, 2020)
Articles and essays:
"American Politics and Energy Transitions in the 1970s," in Stephen G. Gross and Andrew Needham, eds., New Energies: A History of Energy Transitions in Europe and North America (University of Pittsburgh Press, forthcoming in 2023)
"Oil and Power: The Effectiveness of State Threats on Markets," Review of International Political Economy, online version published December 2021 (with Jeff D. Colgan)
"The US Response to OPEC," in Dag Harald Claes and Giuliano Garavini, eds., Handbook of OPEC and the Global Energy Order: Past, Present and Future Challenges (Routledge, 2020)
"US-Saudi Relations," in Jon Butler, ed., Oxford Research Encyclopedia of American History (Oxford University Press, 2019)
"The United States and the Oil Price Collapse of the 1980s," in Duccio Basosi, Giuliano Garavni, and Massimiliano Trentin, eds., Counter-Shock: The Oil Counter-Revolution of the 1980s (I.B. Tauris, 2018)
"Oil Diplomacy," in Gorden Martel, ed., The Encyclopedia of Diplomacy (Malden, MA: Wiley-Blackwell, 2018), pp. 1381-1388.
Introduction, roundtable review of Salim Yaqub, Imperfect Strangers: Americans, Arabs, and U.S.–Middle East Relations in the 1970s (Ithaca: Cornell University Press, 2016), SHAFR Passport, September 2017
Review of Nathan Citino, "The Ghosts of Development: The United States and Jordan's East Ghor Canal," Journal of Cold War Studies 16:4 (Fall 2014): 159-188, published online by H-Diplo, October 21, 2016
"The Paris Climate Agreement in Historical Perspective," published on the Humanity blog, December 15, 2015
"The New International Economic Order, Interdependence, and Globalization," Humanity Vol. 6, No. 1 (Spring 2015)
Review of Guy Laron, The Origins of the Suez Crisis: Postwar Development Diplomacy and the Struggle over Third World Industrialization, 1945-1956 (Washington and Baltimore: Woodrow Wilson Center Press and Johns Hopkins University Press, 2013), published online by H-Diplo, January 25, 2015
Review of Foreign Relations of the United States, 1969-1976, Volume XXXVI, Energy Crisis, 1969-1974, published online by H-Diplo, December 10, 2012
With David Holloway (Stanford University), "The Hungarian Revolution of 1956 in the Context of the Cold War Military Confrontation," Hungarian Studies, Vol. 20, No. 1 (June 2006)