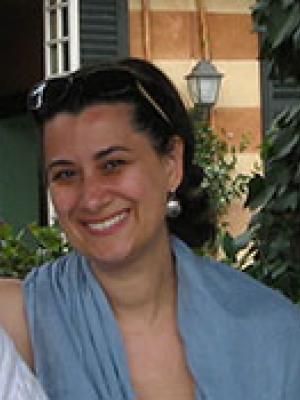 Associate Professor
202 Read Hall
573-882-9462
Research Area
Modern European Intellectual & Cultural History/ Aesthetics/ Women's & Gender History
Education
Ph.D., Brown University
M.A., Brown University
M.A., Oxford University
B.A., Barnard College, Columbia University
Bio
Ilyana Karthas joined the history faculty after teaching for three years at McGill University in both the History Department and Women's Studies Program.  She teaches courses in Modern European intellectual and cultural history, specializing in 19th and 20th century France. Her research interests focus on the development of national identity, modern aesthetics, and ideologies of gender.  Professor Karthas also teaches courses as part of the Gender Concentration and she is an Affiliate Faculty member of both the Women's and Gender Studies Department and Kinder Institute.  In 2010-2011, she served as the first Scholar's Chair offered by the Department of Women's and Gender Studies in which she awarded a research stipend, delivered a public lecture, and taught a seminar in the WGST Department.  In 2013, she was awarded the Maxine Christopher Shutz Award for Distinguished Teaching & Lecture. She has been invited to participate in public lectures at the National WWI Museum in Kansas City.
Professor Karthas received her M.A. in Women's Studies from Oxford University.  Her M.A. thesis examined women's involvement in early photojournalism in the 1930s.  She completed her Ph.D. under the supervision of Dr. Carolyn J. Dean at Brown University where her research fields included French Cultural History, Modern European Intellectual & Cultural History, Women's & Gender History, and Modern European Art History.  As a doctoral student, she received a number of fellowships including a Mary L. S. Downes Dissertation Fellowship, a Joukowsky Fellowship, and a Council for European Studies Florence Gould Foundation Fellowship from Columbia University.
Professor Karthas' book , "When Ballet Became French:  Modern Ballet and the Cultural Politics of France, 1909-1939" ( McGill-Queen's University Press, 2015) is the first book-length study to address how and why ballet revived in early 20th-century France after a long period of decline.  Rather than a social history of ballet or a history of dance criticism, the study investigates the ways in which ballet served as cultural force in early 20th-century France.  The book places the cultural resurgence of ballet within three key themes of early twentieth-century European history: the development of nationalism, modern aesthetics, and changing configurations of gender.  Professor Karthas' other research projects continue to explore the interaction among public intellectuals, the theatre-going public, and contemporary attitudes concerning nation, politics, and art.  Her article, "Gender and the Revival of Ballet in Early Twentieth-century France" was published in The Journal of Social History in the summer of 2012.  Her next book, Authority of Mind: Women Critics and the Shaping of Modern French Aesthetics, will investigate women critics' positioning as arbiters of taste; the intellectual and artistic communities in which they circulated; their mobility as French correspondents in other countries; the ways in which they discussed female performers; and finally, the ways in which their criticism mediated the transfer of foreign aesthetics.
Courses Taught
Professor Karthas teaches regularly the following undergraduate courses at MU: The Making of Modern Europe: Identity, Culture, Empire (HIST 4570/4580), The French Revolution (HIST 4650/7650), History of the Modern City (4971); French Culture & Politics Through the Arts (HIST 4971); The Making of Modern France (HIST 4971); Parisian Life in the Interwar Years (HIST 4971); The History of Modern Europe (HIST 1510); and graduate courses, The Politics of the Body in Historical Perspective (HIST 8004); Envisioning Modernity: French Culture and Politics of the Arts (HIST 8004); and Readings in Gender History (HIST 8405).