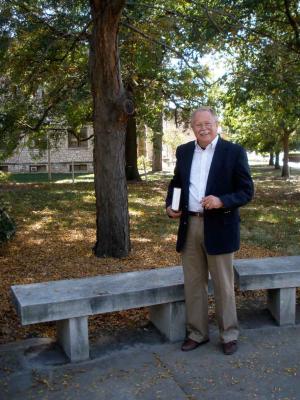 Professor Emeritus
Research Area
American colonial
Education
B.A. Stanford University, 1966;
Harvard Law School (no degree);
M.A, and Ph.D., University of Texas-Austin, 1968 and 1977
Bio
I retired on September 1, 2017, 39 years after I joined the history faculty at Mizzou, 43 years after I began my career at Texas State University.  My last few years were pleasant and productive insofar as teaching and research were concerned.  I enjoyed teaching undergraduates and graduate students, and was honored in 2015 with the university's Golden Chalk Award for Contributions to Graduate Teaching.  In 2017 Peter Lang published Prelude to Disaster: George III and the Origins of the American Revolution, 1751-1763.  This book capped nearly five decades of researching and writing about British politics and the American Revolution.  (Other titles are discussed below in earlier entries.) I consider Prelude to Disaster the best book I have ever written and a fitting end to all that work.  My next project will be a return to the other subject that has engrossed me, the life, times, and significance of Lyndon B. Johnson.  I will examine how and why the Kennedy-Johnson ticket was put together in the summer of 1960.  I look forward to working on that.
Retirement was an inevitable decision.  My wife Laura and I had long planned to move to Fort Worth, Texas, to be closer to our children and grandchildren.  This decision was sped up because I have developed lung fibrosis, a disease that saps my strength and inspires me to spend most of my remaining time with my family.  And I must add that I can see that the university--thanks in large part to short-sighted and unfortunate administrative decisions--will be very different and possibly diminished in the future.  This change I do not want to witness or endure.  I believe all of the Bullions will be much happier in our new future together.  I know part of my happiness will be contemplating decades of fulfilling life we spent in Columbia amidst friends, colleagues, and the most wonderful departmental staff in the world.  Thanks to that, I can promise I might be taken out of Missouri, but Missouri will never be taken out of me.
Professor John L. Bullion teaches the history of the era of the American Revolution. For the last five years, he has also taught courses on the foreign policy of the United States from its colonial origins to the end of the Cold War.
His research specialty when he came to Missouri was eighteenth century British politics and policy relating to British North America. That continues to be a research emphasis of his. Recently some of his works in that area have been published: "Toward a Popular Family and a Patriot Monarchy: The Public and Private Wedding Vows of Frederick and Augusta, 1736," in Catherine Tite, ed., Patronage, Visual Culture, and Courtly Life in 18th-century Germany and England (Cambria Press, 2013); and a collection of twenty-one previously published and new essays by him titled George III, National Reform, and North America (Edwin Mellen Press, 2013). Presently he is at work on a book-length study tentatively titled America's Last King: George III and the American Revolution. He expects the work should be finished by early 2015.
For the last fifteen years, Professor Bullion has also researched and written extensively on Lyndon B. Johnson. He wrote a well-received memoir of his family's involvement with Johnson titled In the Boat with LBJ (Republic of Texas Press/Rowman & Littlefield, 2001). He has done numerous public readings and lectures from the book, and was a featured author in the Barnes & Noble Workshops by Texas Writers in 2002. Bullion is also the author of Lyndon B. Johnson and the Transformation of American Politics (Pearson/Longman, 2007). This book is part of the distinguished Pearson/Longman series Library of American Biography. In 2008 it was chosen as the centerpiece reading assignment for all freshmen at Texas State University—San Marcos, LBJ's alma mater. That year Bullion was also invited to give the James Taylor Lecture at Texas State. The subject of the lecture was Lyndon Johnson's ideas about patriotism. Currently Professor Bullion is awaiting editorial revisions on his latest work on LBJ, "Constitutional Issues of the Johnson Administration's Civil Rights Legislation."
From 2002 until mid-summer 2005 Professor Bullion and Nancy Taube wrote a bi-weekly column on mainline Christianity in modern America for the Columbia Daily Tribune. They are contemplating a return to this subject. If they do, the genre they will work in is the book, not the column, which proved to be too demanding to sustain.