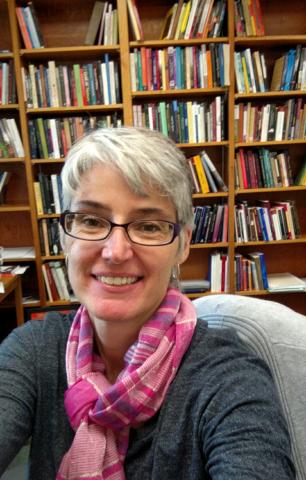 Assistant Professor
E123 Locust Street
573-882-2481
Research Area
Early modern Europe; Spain; History of Medicine and Science
Education
PhD Indiana University
MA Indiana University
BA George Mason University
Bio
A native of northern Virginia, Professor Wilson Bowers first arrived in the midwest for graduate school at Indiana University. Upon leaving Bloomington, her teaching has taken her across the country from Honolulu, Hawaii to Maryland and Pennsylvania, then back again to the midwest. She arrived at Missouri in 2015 after 13 years at Northern Illinois University.
Professor Wilson Bowers is an historian of medicine, whose research focuses on early modern Spain. Her first book, Plague and Public Health in Early Modern Seville examines the processes of negotiation between city leaders, doctors and residents over public health regulations in response to plague epidemics. Her current book project focuses on sixteenth-century learned surgeons.
Courses Taught
Hist 2590 Epidemics and Society
Hist 2700 History of Pirates: Maritime Raiding from Ancient to Modern Times
Hist 2950 Sophomore Seminar (The Black Death)
Hist 3550 Science & Medicine in Ancient and Medieval Europe
Hist 3560 The Scientific Revolution
Hist 4605/7605 Spain in the Age of Empire, 1450-1750
Hist 8565 Studies in the History of Medicine
Recent Publications
Plague and Public Health in Early Modern Seville. Rochester Studies in Medical History. (University of Rochester Press, 2013).
"Tradition and Innovation in Spanish Medicine: Bartolomé Hidalgo de Agüero and the Vía Particular" The Sixteenth Century Journal 41.1 (Spring 2010), 29-47.
"Balancing Individual and Communal Needs: Plague and Public Health in Sixteenth Century Seville" Bulletin of the History of Medicine 81.2 (Summer 2007): 335-358.