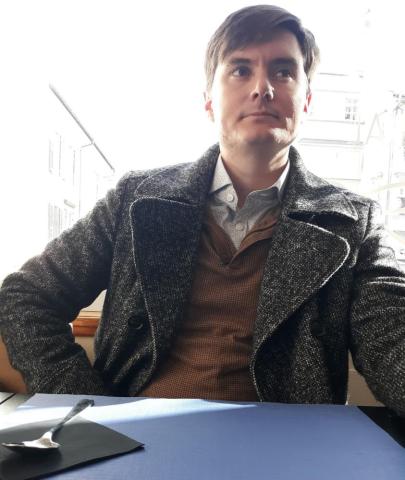 Ph.D. Candidate
Research Area
Modern Europe, Germany
Education
M.A., University of Missouri (2015)
B.A., Oklahoma State University-Stillwater (2013)
Bio
My work may be best described as cultural and intellectual history. I am a Fulbright Scholar and Phi Beta Kappa member who examines experiences and conceptions of the arcane, the esoteric, and the occult in modern Central Europe, circa 1890 to 1933.
Research Interests
Cinema, Stage drama, Pulp literature, Science Fiction and Fantasy, Science and Technology, Occultism
Recent Publications
"Sex Magicians versus Nazi Scientists: Vampires, Vril, and V-2 Rockets," in Subtle Energies: Explorations within Holistic Healing and Spirituality. Universität Wien: Numen Book Series [forthcoming].
"On the Structure of So-Called Expressionist Films," Western Esotericism and Creativity, Performance, and Innovation. Moscow: Russian Institute of Theatre Arts, 2023 [forthcoming]
"Max / Man / Matrix: The Mother and the Mathematical Mantra," Archivio Luigi Pericle (Summer 2022).
Review of Steve Choe, Afterlives: Allegories of Film and Mortality in Early Weimar Germany (Berkeley, CA: Bloomsbury Academic, 2014)," Focus on German Studies 22 (2015).
Awards/Fellowships/Grants
2022: Wilcher Endowment Fellowship, Department of History, University of Missouri
2021: Year-Long Dissertation Fellowship, Department of History, University of Missouri
2019-20: Fulbright Doctoral Dissertation Grant, Universität Konstanz, Germany
2016: Summer Research Travel Grant, Department of History, University of Missouri
2015: Master's Thesis Discipline Award for Humanities and Fine Arts, University of Missouri
Additional Information
Recent presentations (SP ­2022 – Present):
"Drs. Arthur Drews, Albert von Schrenck-Notzing, & Hanns Hörbiger – Or: How Germans and Austrians Learned to Stop Worrying and Trust the Pop Press on Astral Myths, Physical Mediumship, and Glacial Cosmogony." Mystical and Esoteric Teachings in Theory and Practice: 12th International Conference, Association for the Study of Esotericism and Mysticism (ASEM). Moscow, Russia. 3 – 5 February 2022
"Pips in Pisces: Examples of German Expressionism's Occult Blueprint." The Occult in the History of Science, Art, and Religion. ETH Zürich. Ascona, Switzerland. 2 – 6 April 2022
"Vril, Villains, & V-2 Rockets: Prana-Film vs. Peenmünde." Subtle Energies. Explorations within Holistic Healing and Spirituality. Universität Wien. Vienna, Austria. 28 – 30 April 2022
"'Ein Bild der Zeit' – Expressionist Cinema: Its 'Occult Blueprint' in the Context of a Multimedia Society." 27th Transatlantic Doctoral Seminar. German Historical Institute (GHI) at Washington, DC. 14 – 17 June 2022
"Expressionism + Film d'Art = Occult(ure)?" Western Esotericism and Creativity, Performance and Innovation: 8th Biannual Conference of the European Society for the Study of Western Esotericism (ESSWE). University College Cork. 5 – 7 July 2022
"Technology Towards Transcendence: Subliminal Occultism and German Expressionist Cinema." Here Comes the Metaverse: 13th International Conference on the Image. The University of Texas at Austin. Austin, USA. 28 – 29 September 2022