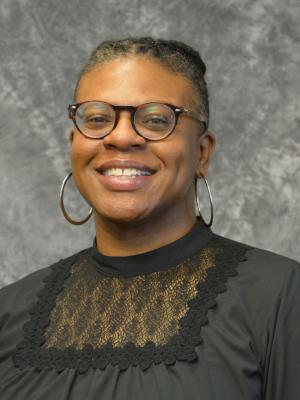 Associate Professor
203 Read Hall
573-882-2481
Research Area
Black Women's History, Black Freedom Movement Studies, US Labor and Working-Class History, US Urban History
Education
Ph.D. Washington University 
M.A. Washington University 
B.A. Duke University 
Bio
St. Louis native Keona K. Ervin is Associate Professor of History and an Affiliate Faculty of Black Studies, Women's and Gender Studies, and Peace Studies at the University of Missouri-Columbia. A Mellon Mays Undergraduate Fellow advised by Paula J. Giddings and the late Dr. Raymond Gavins, she earned a B.A. from Duke University with a double major in History (with honors) and African and African American Studies in 2001. Mentored by the late Dr. Leslie Brown, Dr. Andrea Friedman, and the late Dr. Maggie Garb, she earned a PhD in History at Washington University in St. Louis as a Chancellor's Graduate Fellow. Before joining the MU faculty, Ervin was Consortium for Faculty Diversity Post-Doctoral Fellow and Lecturer in Gender, Sexuality, and Women's Studies and History at Bowdoin College and Assistant Professor of History and Africana Studies at Luther College.
A Center for Missouri Studies Faculty Fellow at the State Historical Society of Missouri, Ervin is the author of Gateway to Equality: Black Women and the Struggle for Economic Justice in St. Louis, which was published by the University Press of Kentucky as a title in the Civil Rights and the Struggle for Black Equality in the Twentieth Century series, which is edited by Steven F. Lawson, Cynthia G. Fleming, and Hasan Kwame Jeffries. In 2018, Gateway to Equality won the State Historical Society of Missouri's Missouri Book Award for superior original scholarship in a book pertaining to the history of Missouri and its people. It was named one of The Best Black Women's History Books of 2017 in Bitch Media and one of Six Notable New Books on Black Women's History in the Huffington Post. The University Press of Kentucky published the paperback edition of Gateway to Equality in 2019.
Ervin is a recipient of the Career Enhancement Fellowship from the Woodrow Wilson National Fellowship Foundation, an Arts and Sciences Faculty Fellowship from the University of Missouri-Columbia, and the Huggins-Quarles Dissertation Award from the Organization of American Historians. She has published peer-reviewed articles, reviews, and essays in International Labor and Working-Class History, Journal of Civil and Human Rights, Souls: A Critical Journal of Black Politics, Culture and Society, New Labor Forum, Los Angeles Review of Books, Labor: Studies in Working-Class History, Journal of Southern History, and Journal of American Ethnic History. 
Ervin's teaching interests include Black women's history, Black freedom movement studies, U.S. labor and working-class history, urban history, and public history. She teaches courses such as The Wire: Race, Urban Inequality, and the "Crisis" of the American City, Black Freedom Movement, and African-American History. She led a tutorial on the opening of the National Museum of African American History and Culture, the 19th Smithsonian Institution museum. The class joined nearly 12,000 visitors on the museum's opening day. Ervin is the winner of two campus-wide teaching awards: the Provost's Outstanding Junior Faculty Teaching Award and the Maxine Christopher Shutz Award for Distinguished Teaching. At the Missouri History Museum, she leads summer workshops on the St. Louis civil rights movement for K-12 educators.
Ervin co-curates a lecture series, The African-American Experience in Missouri, which brings a host of scholars and subject-matter experts to campus to address Black historical experiences from the earliest period of statehood to the present.
Courses Taught
African-American History
Authoritarianism and Democracy
Black Freedom Movement, 1955-1973
From Dred Scott to Mike Brown (Honors College)
Survey in U.S. History since 1865                          
African-Americans in the Twentieth Century
The Wire: Race, Urban Inequality, and the "Crisis" of the American City
The National Museum of African American History and Culture (Honors College)
Seminar in African-American History (graduate)
Readings in African-American History (graduate)